---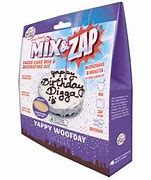 New from Wagalot – The world's first microwaveable Yappy Woofday Cake Kit for dogs!!
This delicious, carob cake cooks in just 6 minutes. With mixing, heating and decorating – the whole process takes about 20 minutes.
And so easy, the kids can make it.
The kit makes one 20cm round cake and comes with:
A compostable 20cm round cake pan
Carob flavoured cake mix – 280g
Vanilla yoghurt buds for icing – 140g
Carob buds for writing – 80g
A piping bag to write with and a candle for decorating.
Just add oil and water.
Full instructions on the pack.  Microwave 6 minutes or Bake 15 minutes.
Feeds quite a few dogs, depending upon the size of your 4 legged friends.
Pet Food Only