---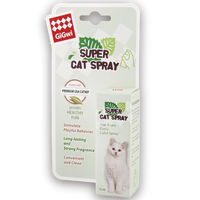 GiGwi Super Cat Spray is made from premium USA Catnip.  Provides healthy fun, stimulates playful behaviour and has a long-lasting strong fragrance.  
Spray on old toys to rejuvenate them or use to help your cat to adapt to new toys, scratch posts and bedding.  Spray on the food bowl to increase the appetite of the cat.  Spray on the water bowl to let the cat drink more water. Spray on the cat carrier to relax the cat.
Test on small area before full use.

WARNING: Do not give catnip toys to kittens under six months or pregnant cats.