---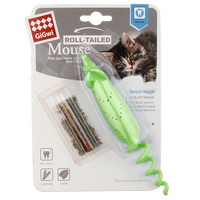 GiGwi Roll-tailed Mouse stimulates cat's hunting instinct and let cats clean teeth by playing.  Small nubs help massage cat's gums and soft material won't hurt their teeth.  Just give the toy to cats and watch them play.
Comes with Silvervine Stick and Catnip bag to place inside toy's belly.
WARNING: Do not give catnip toys to kittens under six months or pregnant cats.