---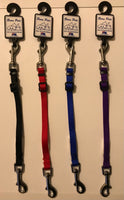 The Gentle Leader Connector Strap attaches at one end to your dog's Gentle Leader Head Collar and then the other end to your dog's regular collar. 
This provides extra peace of mind and safety.  If your dog were to manage to escape out of their Gentle Leader Head Collar, one end will still be attached to your dog's regular collar, so your dog is still connected to the lead! 

Select from four colours that match the Gentle Leader Head Collars - Black, Blue, Purple & Red. 
10mm wide, maximum length 27cms (including hooks) - length adjustable to make smaller for smaller dogs.